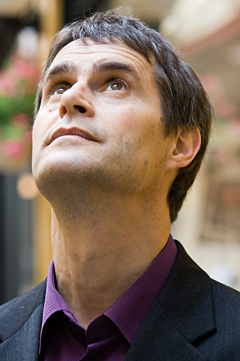 Homepage: David Walter
Born in Paris in 1958, David Walter has pursued an original career. After obtaining the first prize in oboe and chamber music at the Conservatoire national supérieur de musique of Paris, he quickly gained recognition also outside of France by winning, one after the other, five international prizes: in Ancona (I), Prague (CZ), Munich (D), Belgrade (SRB) and Geneva (CH). His main chamber music activity is the one with the Quintette Moragues, of which he is a founding member (1980): together they won the Grand Prix de la Nouvelle Académie du Disque and were nominated for the first Victoires de la Musique Classique (annual French classical music award). His also plays with the musicians S. Richter, C. Zacharias, M. Dalberto, P. Rogé, A. Planès, G. Nicolic, M.A. Nicolas, C.M. Le Guay, Yuki Nakajima, Claire Désert and the string quartets Sine Nomine, Endellion, Manfred and Parisii.

David Walter was only 29 years old when, owing to his enthusiasm and dedication to teaching, he was appointed the youngest-ever oboe and chamber music professor at the renowned Conservatoire national supérieur de musique of Paris. From 1997 to 2009 he also taught at the Guildhall School of Music & Drama of London, and he regularly gives numerous masterclasses all over the world. In an attempt to enrich the relatively limited oboe repertoire, Mr. Walter has proved himself a tireless and authoritative transcriber: to date he has made more than 600 arrangements, many of which are now well known. He also encourages new works by composers such as Gilles Raynal, Hristo Yotsov or Thierry Escaich, and is himself a composer (25 works to date).